UNESA Signs MoU in Cooperation with King Mongkut's University of Technology North Bangkok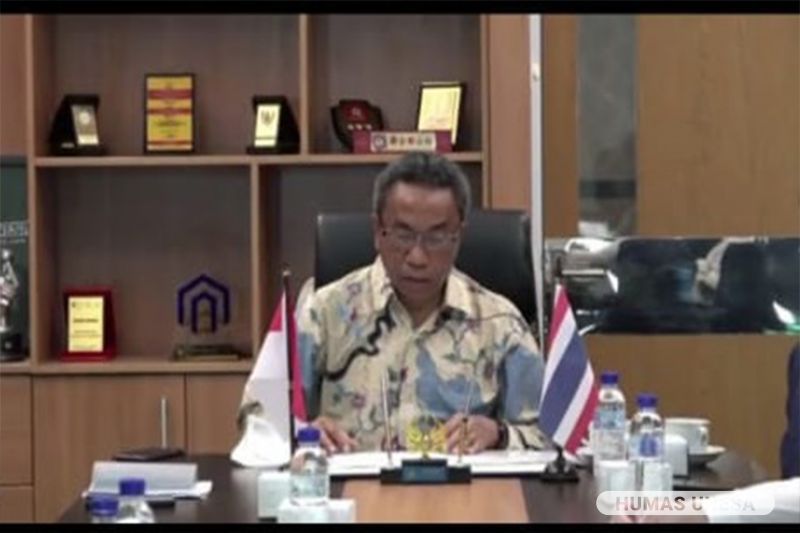 www.unesa.ac.id
Unesa.ac.id, SURABAYA-In improving the quality of the tridharma of higher education and the competence of human resources (HR), the State University of Surabaya (UNESA) continues to expand cooperation with various domestic and foreign parties. Recently, the campus with the slogan 'One Step Ahead' signed an online MoU with King Mongkut's University of Technology North Bangkok (KMUTNB) on Tuesday, February 8, 2022.
In his remarks, UNESA Deputy Chancellor for Planning and Cooperation, Dr. Sujarwanto, M.Pd stated that there are several programs currently being intensified to support the transfer of UNESA status from PTN-BLU to PTN-BH, including summer courses, student exchanges, research publications, join degrees and join conferences.
"These programs are steps by UNESA that are oriented towards building quality human resources who are adaptive, creative and innovative. Because being a PTN BH must be followed by a paradigm shift and institutional governance," he said.
Deputy Chancellor for Research and Information Technology Development KMUTNB, Prof. Dr. Somrerk Chandra-ambhorn said that this collaboration could be a forum for exchanging knowledge, experience, strengthening the competence of lecturers and students both at UNESA and at KMUTNB. "Hopefully this collaboration can have a good impact on improving the quality of the tridharma of higher education on both sides," he hoped.
The Dean of the KMUTNB Faculty of Industrial Technology, Prof. Smith Songpiriyakij, Ph.D said that the cooperation was quite strategic. Moreover, the two campuses have their respective advantages and it can be a strategic and productive cooperation node in the future. "We both support each other for the excellence and progress of our campus together in an effort to educate the life and prosper the people in Indonesia and in Thailand.
The signing of the MOU was attended by the Vice Chancellor for Planning and Cooperation, Dr. Sujarwanto, M.Pd., Deputy Chancellor for General Affairs and Finance, Suprapto, S.Pd., M.T., Head of OIA Asrori, S.S., M.Pd, and lecturers. Meanwhile, from the KMUTNB, the ranks of the Research and Information Technology Development Division and the KMUTNB Faculty of Industrial Technology were attended. (UNESA PR)
Author: Riska Umami
Editor: @zam*
---
Share It On: