UNESA PLB and LAYAK Foundation Prepare Facilitators for Low Vision Children at School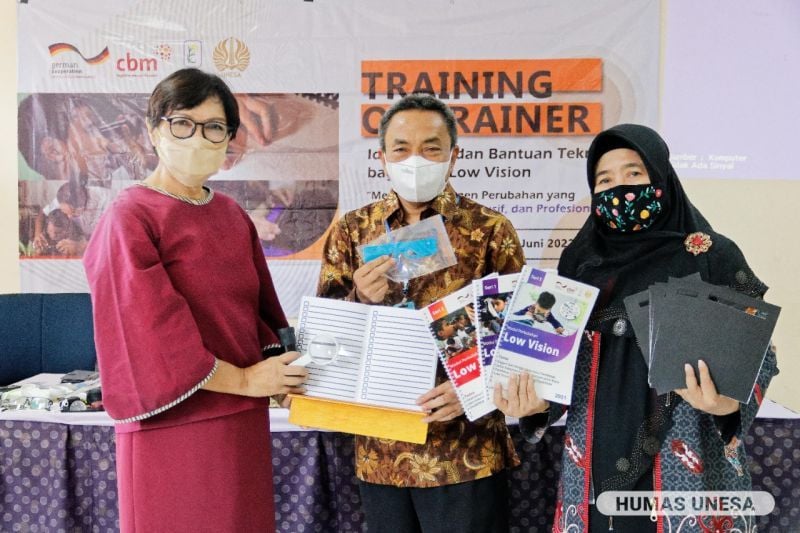 www.unesa.ac.id
Unesa.ac.id, SURABAYA-Special Education (PLB) UNIVERSITAS NEGERI SURABAYA (UNESA) in collaboration with the Child and Family Services Foundation (LAK) held a Training of Trainers (ToT) on Identification and Technical Assistance for Low Vision Children in Schools on Friday, 17 June 2022. The activity took place in Building 6 , Faculty of Education (FIP), Lidah Wetan Campus, Surabaya, was attended by 10 participants consisting of 8 UNESA PLB lecturers and 2 Special Education lecturers at PGRI Adi Buana University Surabaya.
Dr. Sujarwanto, M.Pd., Deputy Chancellor for Planning and Cooperation of UNESA said that the synergy between UNESA and LAYAK is part of a shared commitment to create a friendly environment and quality accessibility for children with disabilities. "We are trying together how these children with disabilities can grow and develop well and can be part of an important element of nation building," he said.
The Chair of the Worthy Foundation, Dra. Evie Suranta Tarigan explained that the Worthy foundation itself has been in East Java since 2019. The goal is to provide comprehensive services for Low Vision children. The age range of the children is deliberately chosen, because if the low vision children are quickly recognized, they can get help quickly, and the children can maximize their vision.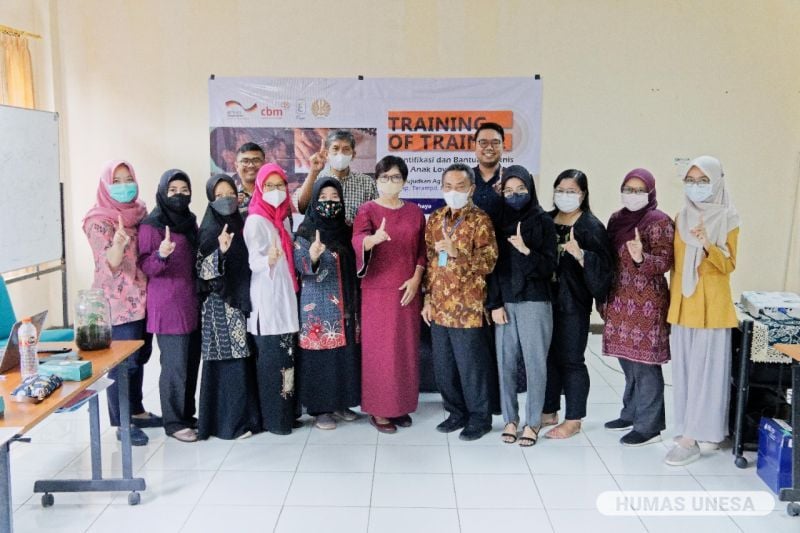 www.unesa.ac.id
So far, Worth has given a lot of training to doctors, because in East Java alone there are 7 hospitals that are provided with vision aids by the Worthy Foundation, especially in the community eye hospital.
In addition, the foundation deserves to also hold training for teachers. However, this will be very limited so it is necessary to cooperate with UNESA so that its reach is wider. The collaboration is also to develop modules that meet the criteria for obtaining certification.
The cooperation module consists of six ready-made packages (modules) which will become lecture modules at UNESA and other campuses. "This is a good thing in creating change agents, agents who are capable, skilled, inclusive, and professional," added Evie Suranta.
He hopes that there will be more contributions from the community and institutions because the currently available reading aids still have to be imported. Hopefully with this ToT there will be more teachers who understand low vision so that they know how to treat it in the classroom.
"So far, low vision children are not considered to exist and are considered to be completely blind, so they have to learn braille, but now with or without assistive devices, they can take full advantage of their vision," he said.
Dr. Asri Wijiastuti, M.Pd., Head of the PLB FIP UNESA Department hopes that this activity will not only be in Surabaya but can also be developed throughout Indonesia and continue to be sustainable. In addition to the lecturers, it is also necessary to have a special agenda for teachers in schools.
"Low vision should be given special attention. Therefore, it takes teachers who have the ability to provide appropriate and appropriate treatment to them (low vision children, ed). This is a joint task and hopefully it can run smoothly," he said. [UNESA PR]
Author: Nabila Arum
Editor: @zam Al'asyiah
---
Share It On: