Expanding International Cooperation, UNESA Collaborates with COTA Namibia and the Indonesian Embassy in Windhoek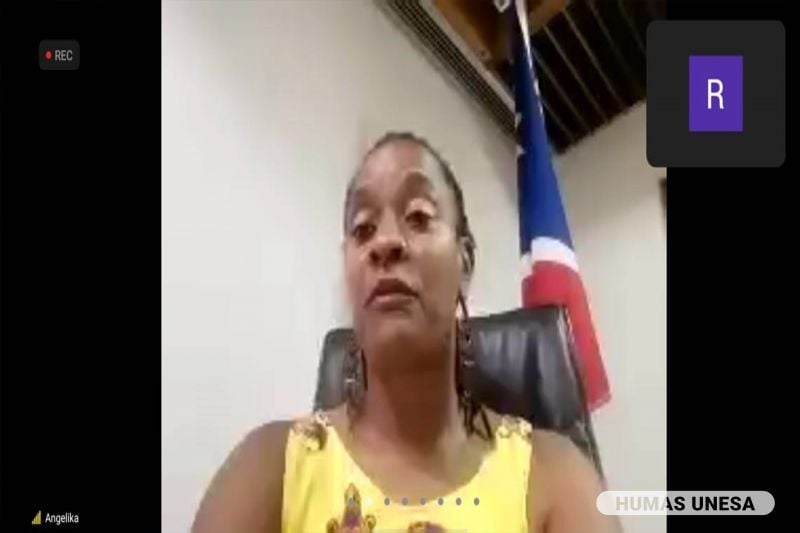 www.unesa.ac.id
Unesa.ac.id, SURABAYA - The State University of Surabaya (UNESA) continues to expand its international cooperation network. Recently, UNESA held an online meeting to discuss the initiation of collaboration with the College of The Arts (COTA), Namibia and the Indonesian Embassy in Windhoek on Tuesday, 15 February 2022.
The event was attended by the leadership of UNESA, the deans and vice deans, the head of the Communication Sciences Study Program, the Head of the S-1 Fine Arts Education Study Program, the S-1 Fine Arts Program, the S-1 Sendratasik Education, S-1 Music Arts, S-1 Visual Communication Design. , D-4 Graphic Design, and D-3 Graphic Design. In addition, the Chair of the Office of International Affairs (OIA) and Public Relations staff was also present.
In his remarks, the Chairperson of OIA UNESA, Asrori, SS, M.Pd welcomed the cooperation plan between COTA and the Indonesian Embassy in Windhoek in improving the quality of education and implementing the tridharma of higher education in each institution.
"We appreciate this program and thank both parties. Hopefully with this program the synergy will be more strategic and give birth to innovations," he said.
Angelica, a representative from COTA said that the collaboration was to strengthen performance and improve the quality of education in terms of learning, collaborative research, and innovation in various fields.
"With 600-800 students, we want to improve the quality of the mindset of both lecturers and students, COTA is widespread in various parts of the world, besides being able to open international networks it also provides good provisions for the future of our graduates." he said.
Meanwhile, a representative from the Indonesian Embassy in Windhoek, Ari Hadiman said that the Indonesian Embassy was very open and very enthusiastic to actualize the cooperation plan.
"This is an extraordinary breakthrough from the two institutions so that in the future a strategic collaboration will be created for both institutions and countries," he said. The activity ended with the signing of a memorandum of understanding between the two campuses involving several related study programs. [UNESA PR]
Author: Riska Umami
Editor: @zam*
---
Share It On: