MAN 2 Bojonegoro Students Want to Study at UNESA, Schools Interested in Achievement Path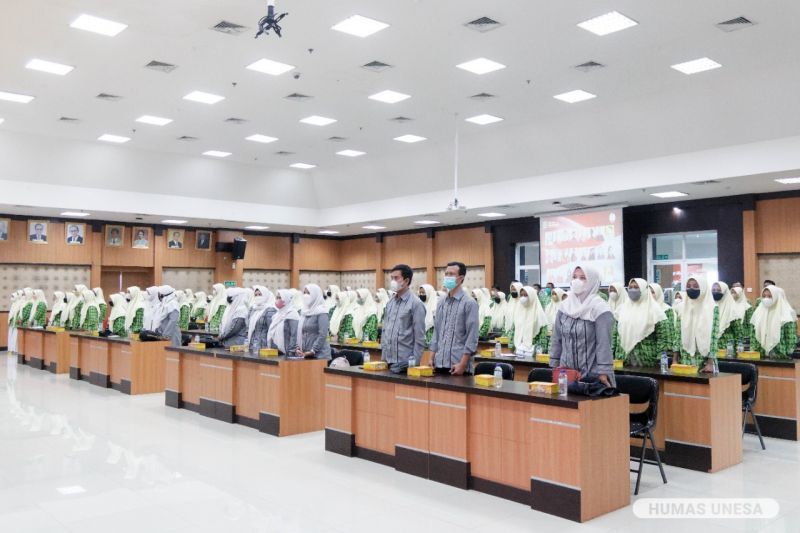 www.unesa.ac.id
Unesa.ac.id, SURABAYA-The Surabaya State University (UNESA) Admissions Unit welcomes the visit of 150 class XI students and MAN 2 Bojonegoro teachers at the 11th Floor Auditorium, Lidah Wetan Campus Rectorate Building, Surabaya, on Wednesday, 22 June 2022.
The activity was attended by Gilang Gusti Aji, S.IP., M.Sc., Head of Publication and Image Division of the UPT Humas UNESA, Awang Dharmawan, S.I. Kom., Head of the New Student Admissions Division of the Unesa Admission Unit, and Drs. Parmin, M. Hum., Secretary of the Unesa Admissions Graduation Division. The students were accompanied by Kamid, S.Pd., M.Sc., Deputy Principal for Academic Affairs at MAN 2 Bojonegoro and a number of teachers.
Gilang Gusti Aji revealed that since IKIP transformed into UNESA, the campus with the motto "Growing with Character" has grown rapidly. Study programs continue to grow for both educational and non-educational sciences.
UNESA appreciates the best local children through various scholarship programs and new student admissions. UNESA encourages its students to continue to excel and provide special rewards.
"One student got forty-three million rupiah from Unesa because in a year he could win around sixty photography competitions. So this is a form of our appreciation to our friends for continuing to excel," he said.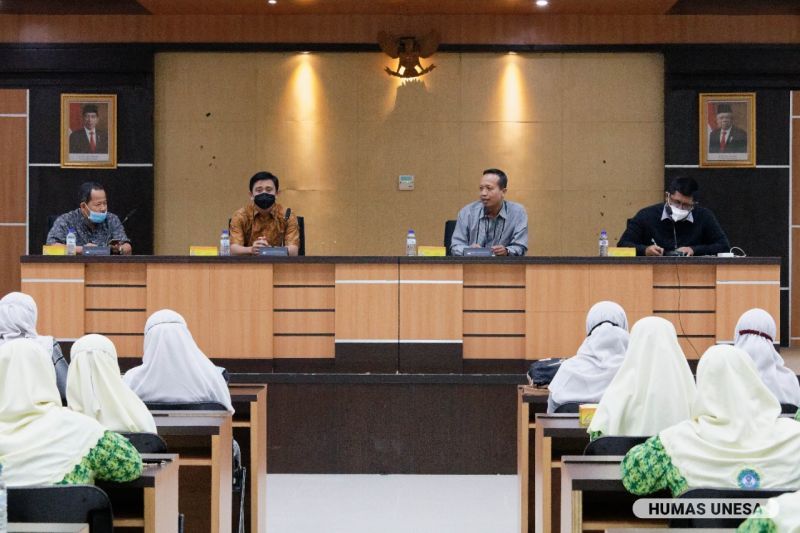 www.unesa.ac.id
On that occasion, Awang Dharmawan explained several pathways for new student admissions starting from SNMPTN, SBMPTN, and SPMB or independent. This year, explained Awang, UNESA has become one of the favorite PTNs in the country with the most registrants for the SNMPTN and SBMPTN pathways.
"Competition is certainly tight, but the good news is that UNESA has added a new student admission quota this year. Participants who have achievements in the fields of religion, leadership, arts and sports can also enter UNESA through the SPMB achievement path. From now on, you can prepare yourself," said Awang.
From the school, Kamid explained that MAN 2 Bojonegoro has a special religious program in which, after graduating, they are expected to have great opportunities to continue their education in general fields at UNESA through religious channels. "With this activity the children have an impression and have the determination so that they are motivated to continue their education to higher education, especially at UNESA," hoped the alumni of Mathematics Education of IKIP Surabaya.
One of the students, Umam expressed his interest in pursuing higher education at UNESA. He aspires to enter the Legal Studies study program. "My family has a family background in law. So I wanted to go to law school. I started to prepare myself and hopefully later I can enter here as expected, "said Umam. [UNESA PR]
Author : Muhammad Dian
Editor: @zam*
---
Share It On: