Head of SMAN 3 Lamongan Reveals the Mission of Hundreds of UNESA "Geruduk" Students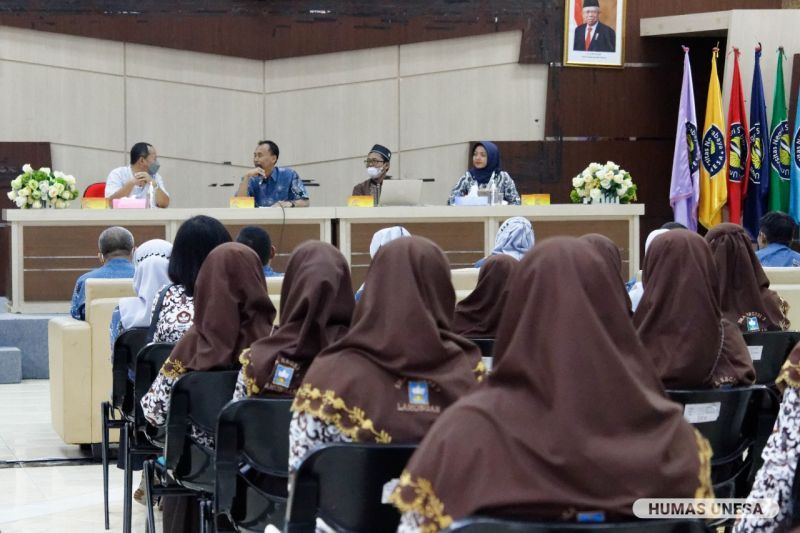 www.unesa.ac.id
Unesa.ac.id, SURABAYA-Hundreds of students from SMAN 3 Lamongan "geruduk" STATE UNIVERSITY SURABAYA (UNESA), Lidah Wetan Campus, Surabaya on Friday, June 17, 2022. The purpose and purpose of their arrival was revealed by the principal who accompanied the 350 students.
"We are grateful for the opportunity and the extraordinary welcome from UNESA. We are here to ask for guidance and an injection of motivation so that our students can be enthusiastic about studying in higher education. I think that's our mission today," said Drs. Sholihin, M.Pd., Principal of SMAN 3 Lamongan.
He added, lately there are many assumptions that college takes time and does not guarantee someone's success, which makes students less enthusiastic about going to college. In fact, college is not just to be successful or as a future career path, but further to learn to be better.
"In addition, there are those who complain about costs and so on. Therefore, we ask for direction and hope for information on new student admissions at UNESA, including achievement paths and scholarships and their conditions, "he said again.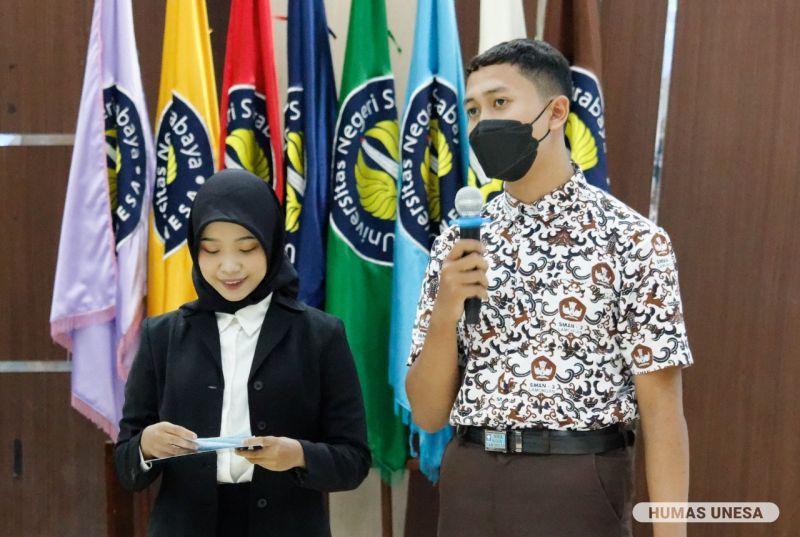 www.unesa.ac.id
Secretary of the Graduation Division, UNESA Admissions Unit, Drs. Parmin, M. Hum., on that occasion at first motivated the students. The campus with its lecture system encourages and opens many opportunities for success for students both during and after college.
Especially now, there is an independent learning curriculum and an independent campus (MBKM) which allows students to enter the workforce, either in industry or in companies or institutions to learn to improve competencies according to the needs of the work-industry world.
"When I was in college, I already had the opportunity to enter the workforce, through internship programs and so on. In fact, many students are already able to work (freelance, ed) before they graduate. Usually there are students who are immediately trusted to work in their internship places," he explained.
However, he continued, college is not just a way to get a job. Lectures must be seen as part of a continuous learning process in improving oneself and increasing self-competence. "Soft skills and hard skills must be possessed by generations, one of which is college, this is the demand of the times. Besides we have to be smart, we also have to have skills. The most important thing is attitude, how we respect and communicate with others is also important," he said.
Students don't need to be afraid of the cost, he continued, because the government is now opening many scholarship programs for young people who are serious, determined, willing to study but don't have the money. Now there are many merit scholarships for underprivileged or underprivileged students. Even campuses have special programs and pathways for high achievers.
This year, UNESA opened a number of new student admissions routes. In general there are three paths; SNMPTN, SBMPTN and SPMB or independent pathways. Two pathways have been implemented and UNESA will soon, June 24, 2022, begin to open registration for the SPMB pathway.
In this independent pathway, there are a number of admission pathway groups prepared by UNESA, there are non-test pathways or pathways that use national UTBK scores. Then there is the achievement path consisting of religious achievements, arts, sports and leadership. For the religious path, of course, for all religions recognized in Indonesia. For the religion of Islam, there are pesantren, tahfiz and MTQ routes.
In addition, there is also the TMUBK pathway for undergraduate and applied undergraduate and finally there is a special path for disability. "Please, those of you who have achievements or who are active in the Student Council can use the existing achievement paths. Those who have won competitions in arts and sports as well as in the field of religion can of course go through the channels we have prepared," said Ainur Rifqi, S.Pd., M.Pd., Secretary of the New Student Admissions Division, UNESA Admissions Unit.
After the presentation about the campus from the admissions ranks, the participants seemed to ask various questions. Some asked about study programs and professions after graduation, some asked about scholarships and much more. They were quite enthusiastic in the visit which ended with a group photo session. Hopefully the hopes of SMAN 1 Lamongan students to study at UNESA can be realized. #UNESASatuLangkahDi Front [UNESA Public Relations]
Author: Nabila Arum
Editor: @zam*
---
Share It On: